James has been around since 1927. What first started as a family business in washing and cleaning products, has now grown into a leading manufacturer in the field of cleaning products and advice for carpet, furniture and hard floors in the Netherlands and abroad.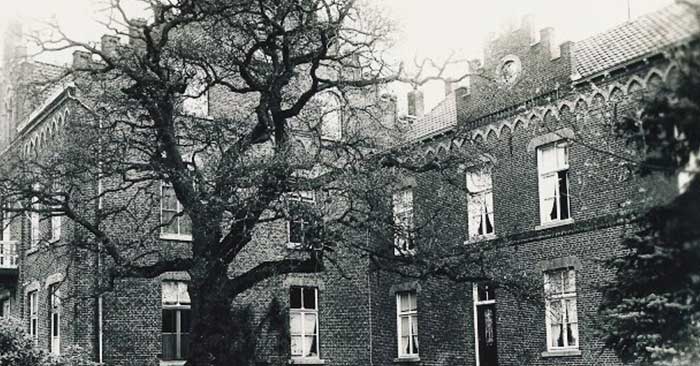 James in 1927
James was founded in 1927 in Venlo by the Weekers family. Washing and cleaning products are produced for sale in the Netherlands. It mainly sells to schools, monasteries and government institutions.
James in 1971
In 1971 the Reutelingsperger family took over the company from the Weekers family.
James in 1994
Chris Reutelingsperger takes over the company from his parents together with his wife Thea. James specializes in developing cleaning products for carpet, rug and upholstery fabric for professional cleaners.

With the knowledge the company has built up over the years, James becomes a household name in the carpet and furniture industry.
James in 1995
James starts selling cleaning products to consumers via retailers (interior shops). In addition, James starts to provide advices and instructions about maintenance and stain removal of carpets, rugs and upholsteries.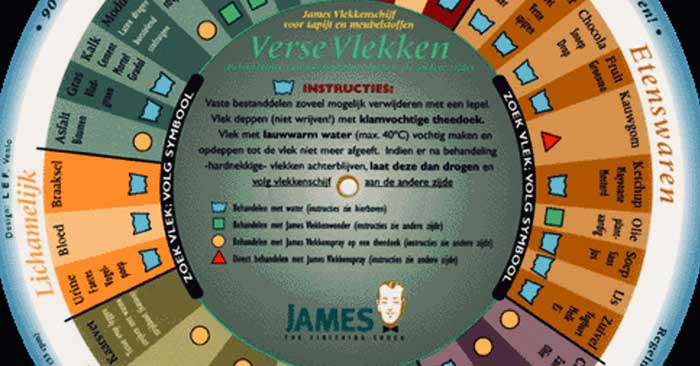 James in 1996
The Staindisk is introduced. 98% of all existent persistent stains can be removed with the aid of the instructions on this Staindisk! This disk caught the attention from the industry with its clear and simple text. Since James provides honest information (most fresh stains can be removed with just plain tap water!), more and more manufactures are interested in James.

The Staindisk is supported by a telephone number, which one can call for further information. Edel is the first carpet manufacturer to engage in a co-operation with James, and adds the Staindisk to each carpet sold.
James in 1997
James initiates the start of the SWTM, The Dutch foundation of Carpet and Upholstery Cleaning. James becomes the secretary/ treasurer of the foundation. Members of the foundation are professional and certified cleaners. James has trained all these companies on maintenance.
James in 1998
The first export country is England. The English Staindisk as well as English labels for the products are printed, and an English telephone line is manned.
James in 1999
James starts handling complaints of consumers for several manufacturers. Due to the experience we gather while handling complaints, we notice the lack of knowledge about maintenance and stain removal.

Therefore James starts with workshops on these subjects. The workshops are meant for manufacturers, suppliers and the sales people (retailers). The participants learn about maintenance and stain removal of carpets, rugs and upholstery in a practical manner.
James in 2000
Export is expanded to Belgium, Germany, France, Italy, Spain and Austria. Distributors and agents are hired. Each language has its own Staindisk and supportive telephone line. The labels of the James products are also provided in each language.

James provides services, solutions and products in six languages!
James in 2001
James builds its first website in the year 2001, www.james.nl. The website is available in Dutch, English, and German language and is purely informative. A large database is installed which contains many simple solutions for common stains. Via the website we receive many questions about certain stains, for which no answer is available immediately. James starts with testing these stains in its own laboratory. The solutions for these stains are put online in the database and can be found by using the search engine.

Also exports to Europe are being optimized.
James in 2002
James participates in a European project called Protex. Protex is short for Modified Proteases for the Reduction of Felting and Shrinkage of Wool Textiles. In this project, James and the other participating companies develop new cleaning agents for wool, based on modified enzymes.

The James website is expanded with the Italian, Spanish and French language.
James in 2003
James participates in a second European Project named VITA. VITA is short for Virtual Interior Textile Academy. In this project, an internet course on carpet is developed. Learning modules on materials, production, installing carpet, sales and maintenance are made. James writes the module maintenance and cleaning.

In the year 2003 export is expanded to Finland, Ireland and Cyprus. Two new languages (Finnish and Greek) are added to the website, the Staindisk, the labels of the products and the supportive telephone lines. Co-operations are initiated with furniture manufacturer Leolux, carpet manufacturer Bonar Floors and rug manufacturer Karpi.
James in 2004
For the first time, James tests carpets on cleaning possibilities. From several manufactures all qualities are checked. The collected information is converted to a personal maintenance advice. This personal advice can be downloaded by a dealer through our website.

The website of James, www.james.nl, is fully restyled. The website is even more informative than before and contains among others a database of solutions for hundreds of different stains. Furthermore, there is a database of more than 1000 carpets, rugs and upholsteries which have been tested on cleaning possibilities.

More and more workshops are organised in Europe. Many sales people have regained their faith in selling carpets and upholstered furniture and are no longer afraid for questions about maintenance and stain removal.

Finally in 2004, initial contacts are made for possible export to China.
James in 2005
James launches a new website!

VITA-Academy has started to sell the learning modules in Europe. James becomes president of VITA Academy. The export of James is further expanded to the Scandinavian countries Sweden, Denmark and Norway. And yet another language is added!

Due to these new co-operations, 98% of all Dutch carpet manufacturers work with James! This is very special if you know that The Netherlands is the second largest carpet and rug producing country of the world!
James in 2006
James sells its products in China and 14 European countries, and provides them in 10 different languages!

Since there are too many interior decorators to visit for one person alone, James starts a cooperation with Forinn. T heir sales team will be actively visiting all Dutch interior decorators.
James in 2007
James starts another European project, Hygiene for Health. This is an international project for knowledge exchange between Limburg SME companies and Limburg and German (Nord Rhein Westfalen) knowledge institutes and universities.

James develops, in cooperation with Fainox Stainless Steel, the Quality Maintenance Control, QMC-007. This testing machine enables us to test carpets and furnishing fabrics in a standardized, mechanical way for cleaning, maintenance and durability.

James presents its complete consumer solution of cleaning products for (semi) hard floors like vinyl, linoleum, marmoleum, rubber and laminate.
James in 2008
In 2008 James was selected with QMC-007 by a jury of the last five companies for the MKB Limburg Innovation Award. With this globally unique testing machine, maintenance can be objectively mapped out for each carpet or upholstery fabric. James got second! The jury report showed that James was considered a unique company with a fresh way of doing business. People were impressed by the knowledge accumulated and the fact that we implement so many innovative ideas with so few people.

The LIOF and the Economic Affairs department of the Province of Limburg are taking a closer look at James regarding her drive to make the packaging of James products cradle-to-cradle.

James expands her online reach and goes from James.nl to James.eu!
James in 2009
In 2009 James applied for a grant for the development of the ERUTAN® concept. The QMC ‑ 007 is expanded with options to test vacuum nozzles by measuring air velocities. This allows more advanced vacuum nozzles to be produced, which can not only more efficiently remove dust from carpets and upholstery fabrics through optimal aerodynamics, but also consume considerably less electricity with constant or even improved performance.
James in 2010
In February 2010, the subsidy for ERUTAN® is approved. Furthermore, James considers itself an innovative, progressive company that has set itself the goal of continuously improving its products and services. Improvement not only in the sense of quality, but also in the interest of the environment.

James introduces the Dealer Activation & Participation concept for the home furnisher. In collaboration with the carpet suppliers, a concept has been developed with the aim of stimulating the sale of carpet together with maintenance.
James in 2013
Another new James website is live!

From now on it is possible to purchase the James products both online via the webshop and offline via our dealer network. In addition, one of the bigger changes is that from now on the unique James personal maintenance advice is now freely accessible to everyone! A blog has also been started in which James regularly shares tips, advice & news.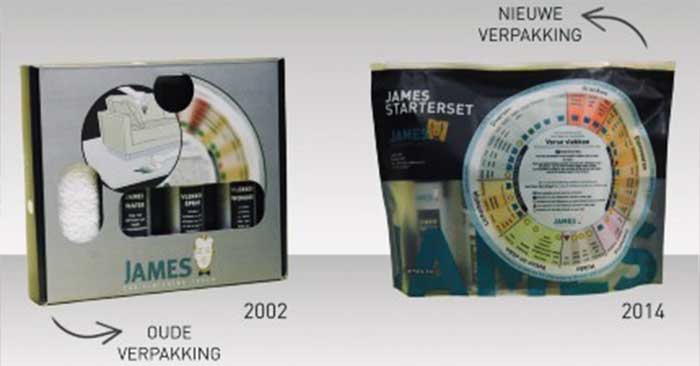 James in 2014
The next James generation! One of the sons of Thea and Chris Reutelingsperger, Martijn Peters, continues the company together with his wife Marieke. Martijn has held a management position in the company for some time. The new management is packed with plans to further expand the company. James also has sustainable and corporate social responsibility as a must in business operations.

2014 is also the year in which James proudly presents its new packaging for the James Starterset, which has a much lower environmental impact. At James, we are constantly looking for improvements and opportunities to not only improve our product experience, but also further relieve the environment.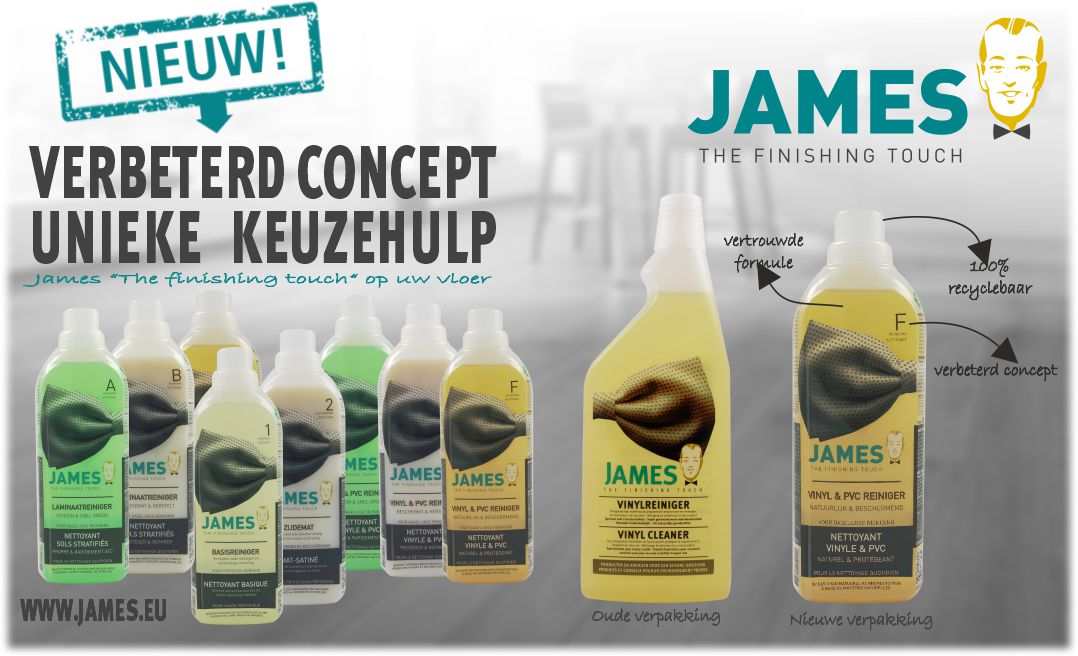 James in 2015
James launches its renewed line of products for laminate, vinyl, PVC and all other water resistant hard floors.
The bottle itself has been renewed, thanks to a smart design it is also more sustainable and saves 20% in raw materials.

It has now become even easier to determine exactly which products the customer needs to maintain the floor as desired; James has developed a unique "Buying guide" with a version especially for laminate, for vinyl & PVC and other hard floors.
James in 2016
James has succeeded, as the first manufacturer on the market, to create a unique product that responds to the recent developments in the flooring market. Vinyl, PVC and LVT floors that are currently flourishing in the market have an extra matt finish.
James, like others in the market, did not have a suitable answer to this. But now we do!

With James Extra Matt we are launching a protective polish that is matt enough for the mattest floors. An unique, consumer-friendly, one-component product.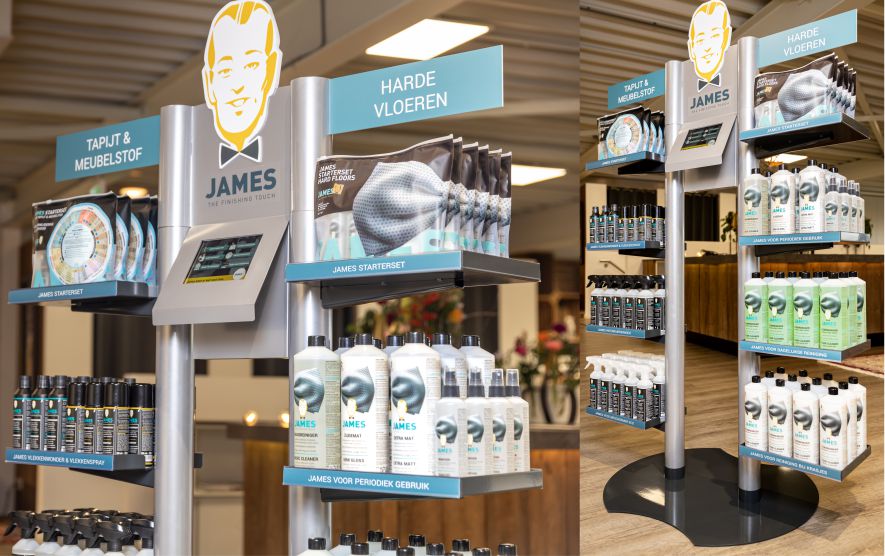 James in 2017
In addition to the various product displays that were already available for James dealers, a new and modern concept is introduced in 2017: the James interactive floor display!

James has provided a high-quality, metal floor display with interactivity, thanks to the integration of an Apple iPad. The entire basic assortment is presented in a flexible manner on both sides. The well-known James services have been adapted to fit the iPad and can be consulted directly on the display.

The fact that dealers with an interactive floor display have the entire basic assortmentof James in stock, makes it attractive for customers to go to those stores, because they never miss out!
James in 2018
Our first 'microsites' are a fact!

At James, we believe in the power of collaboration. Together with our partners, we are constantly on the move to provide our customers with the best (and fairest) service.

From 2018 on, the James webshop will be implemented in thewebsite of various partners, so they can offer their customers a total package (floor + maintenance). From our Stain Search Engine, unique maintenance advice to even a webshop: it's all in the James Microsite.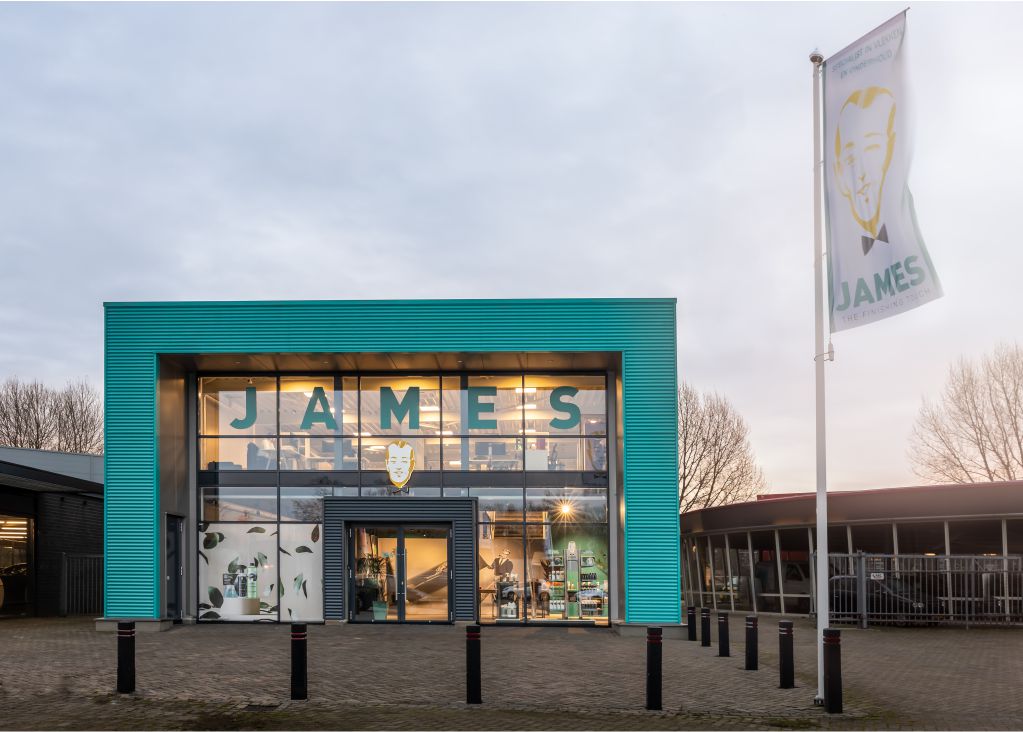 James in 2019
BIG NEWS: James goes USA! 2019 is the year in which James USA was established. With its own stock, its own retailers and of course its own website (jamescleaner.com)

DREAM BIG: more big news!

James is moving to a beautiful building in Venlo. It's a very special building! Besides the fact that it is a beautiful building that offers space for all the future plans that James has, it is an environmentally friendly and sustainable building. It is energy neutral, mainly thanks to the solar panels and insulation. The building fits in seamlessly with James' sustainable business operations.

The enormous growth in collaborations / partnerships in the hard floors industry ensures that the major brands support James!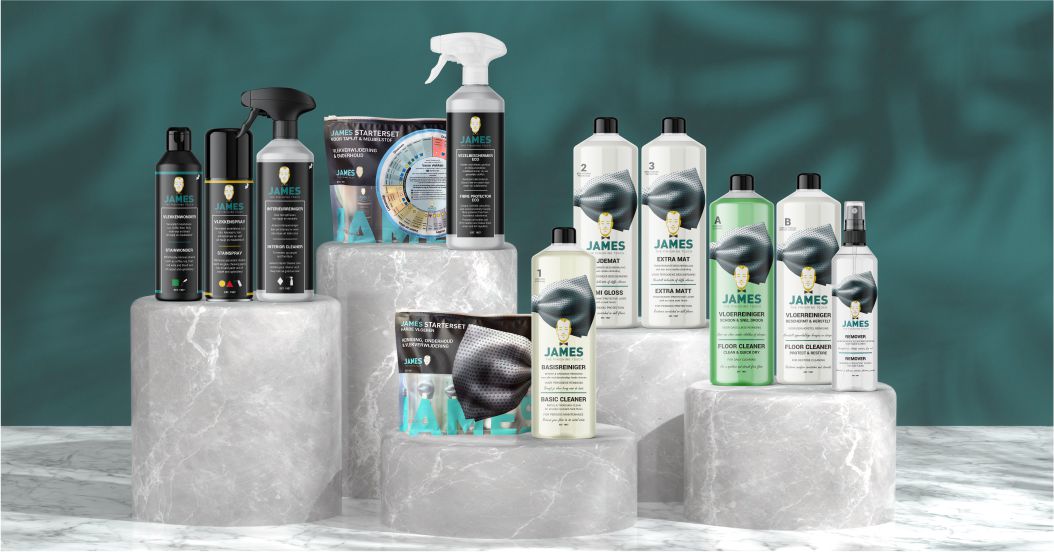 James in 2020
James continues to innovate and inspire: an entirely new corporate identity is in development, to be launched in November 2020. At the same time, the labels will feature eight languages instead of two.

We are also working hard on a completely revamped website with even more support and advice for our customers.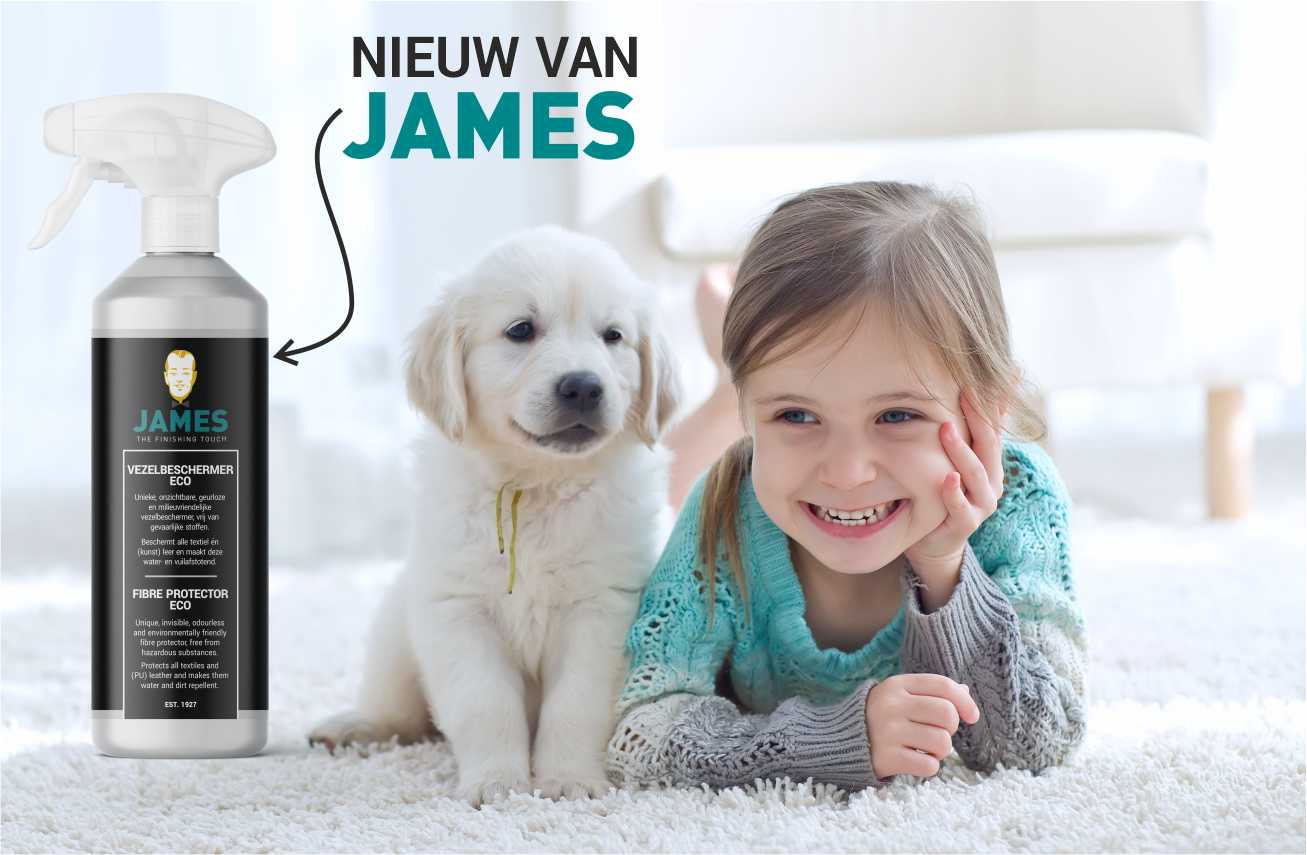 James in 2021
Our unique fibre protector James Fibre Protector Eco is released in a consumer version as a 500ml spray bottle. This is the ultimate odourless and harmless alternative to existing fibre protectors on the market. With the same effect, without harmful substances. Suitable for all materials.

A collaboration with wholesaler Royal Peitsman was also set up this year. They proactively engage with James and manage to convince many new customers of James.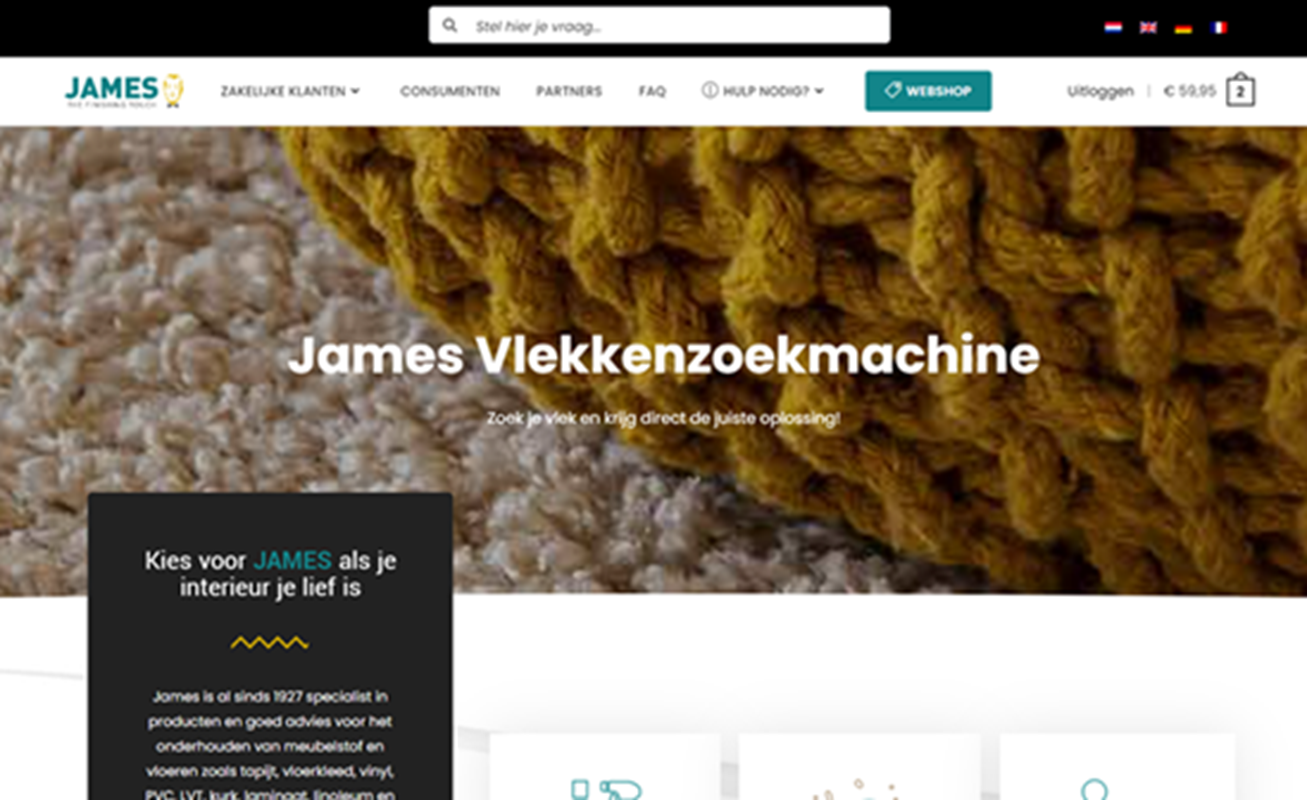 James in 2022
The year 2022 finally marks the launch of the new website. The postive news: it was well worth the wait! Even more information is even easier to access for everyone worldwide. As always, the James website is readily available in four languages: Dutch, French, German, English.

A lot of new, interesting projects are once again in the pipeline, more on that in 2023.