All information for people working in hospitality
You are active in the hospitality field
If you receive guests in your hotel, restaurant, cafe, casino, stock exchange or, for example, at your campsite, the first impression is of vital importance. Running a hotel or restaurant , for example, has many facets. Cleaning is certainly one of them, as a beautiful appearance is the ultimate calling card. A hotel room with stains in the carpet or a restaurant with stained chairs or scuff marks on the LVT floor, that is of course a no-go. James is the most preferred brand to be recommended by manufacturers, so there is a good chance that your interior wishes to be maintained using James products.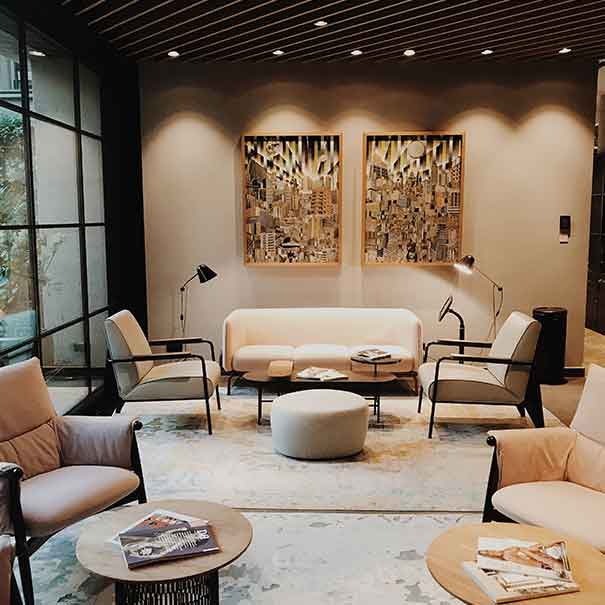 What our products can do for you in practice
As a hotel, you have the big challenge of getting the rooms neat and tidy day in, day out. Time is the most crucial factor, not only literally but also figuratively in the sense of the cost perspective. There is hardly any time for thorough maintenance or stain removal and the stains and general soiling pile up. How nice is it that the most common stains can literally be treated in 5 seconds?
Minibar stains are the most common and most disturbing. Stains from red wine, coffee or soft drinks leave nasty stains on the carpet and furniture. Our solution for this type of stain, James Stainwonder, has a unique feature: simply apply and on to the next task. The product does the work itself, so no dabbing, scrubbing or rubbing. This way, you won't lose valuable time and stains can be treated every day. While on the other hand it actually makes money; after all, a cleaner room represents a higher price.
As a restaurant you have a similar challenge with the floor, and also with the furniture. Due to the very intensive use, armrests and the seat of a chair or sofa quickly become smudgy. A combination of skin oils (sebum) and general soiling settles in the material (both (PU) leather / imitation leather as well as upholstery fabric) and does not leave a shiny appearance. Apart from the fact that it shortens the life of the material.
Our product James Interior Cleaner (previously: James Water) is a maintenance product; everything that isn't a stain, but still isn't clean: that's what James Interior Cleaner is for. So nothing has been spilled and yet it looks smudgy. James Interior Cleaner is ideal for keeping your furniture (and carpet, rug or box spring) nice and clean. A simple and regular cleaning with James Interior Cleaner in combination with a cotton cloth works wonders and makes your restaurant shine bright.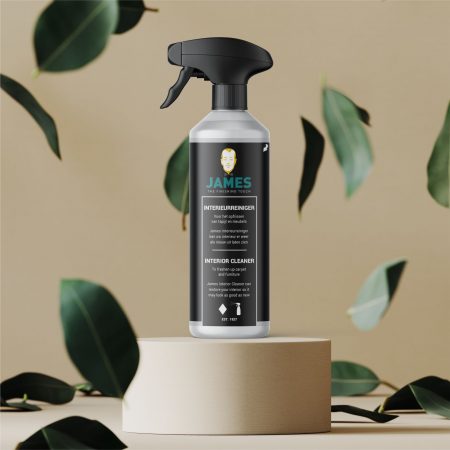 Our website answers every conceivable question and provides extensive advice in many areas. Can't figure it out? We are happy to help you by email, whatsapp or telephone.
Got a weird stain? Try us!
Find the cleaning solution for all your stains on upholstery fabric and almost any form of carpeting here.
The right PRODUCTS are crucial for a good result, also in the long term. No wonder the best brands recommend James products.
Good MAINTENANCE ADVICE
this way your interior will stay beautiful. A tailor-made advice for your floor or furniture, with the right tips, tricks and products.
Frequently Asked Questions
Our FAQ, a collection of the most frequently asked questions to James. We can perfectly answer these questions through almost 100 years of research in our own laboratory.
Do you have a question that is not answered here? Use our stain search engine or contact us!
No, this is not necessary at all! In fact, the most common stains are caused by drinks (from the minibar, for example). Our product James Stainwonder for carpet and upholstery is magnificent: simply apply and done, the product does all the work and the stain will disappear by itself. Housekeeping will love it!
The cleaning companies you have engaged can also purchase products from James. If they are not prepared to do so, you can buy them yourself and have them use our products. At the end of the day, it is your calling card and possession and you want to keep it beautiful for as long as possible.
Most floors nowadays are so matt, that any (affordable) solution makes the floor shine. James Extra Matt does not! This product is unique in its kind due to its extremely matt appearance and can make the floor look beautiful again, by camouflaging the scratches and protecting the entire floor from new scratches. Recommended and loved by the biggest brands in PVC, LVT and vinyl floors.